We all know that leading an organized life can be tough. There's so much to keep track of – work, family, social obligations, and our own personal goals. That's why having a daily planner is essential for keeping our lives on track.
A daily planner printable is simply a PDF of a daily planner that you can print out and use as you see fit. You can keep it in your purse or bag to have with you on the go, or you can keep it at your desk or in your office so you can refer to it throughout the day.
Using a daily planner printable helps you keep track of your to-do list, appointments, and other important information all in one place. Plus, it's easy to customize and change if your schedule or priorities change.
What's inside the My Daily Planner?
Cover Page
Undated Calendar: Since it's undated, you will be able to use this as long as you want.
My Day: This includes your schedule, today's appointment, reminders, to call or email, mood tracker, weather, exercise, medications, money tracker, and more.
My Goals: You can write your daily goals.
To-Do/My Notes
Cleaning Checklist
Daily Meal Plan: You can track your breakfast, lunch, dinner, snacks, calories and carbs, and water intake.
To Buy
Daily Devotional
Letter to God
2 extra pages: You can use them if you want to add an additional page or use them as a doodle/art page.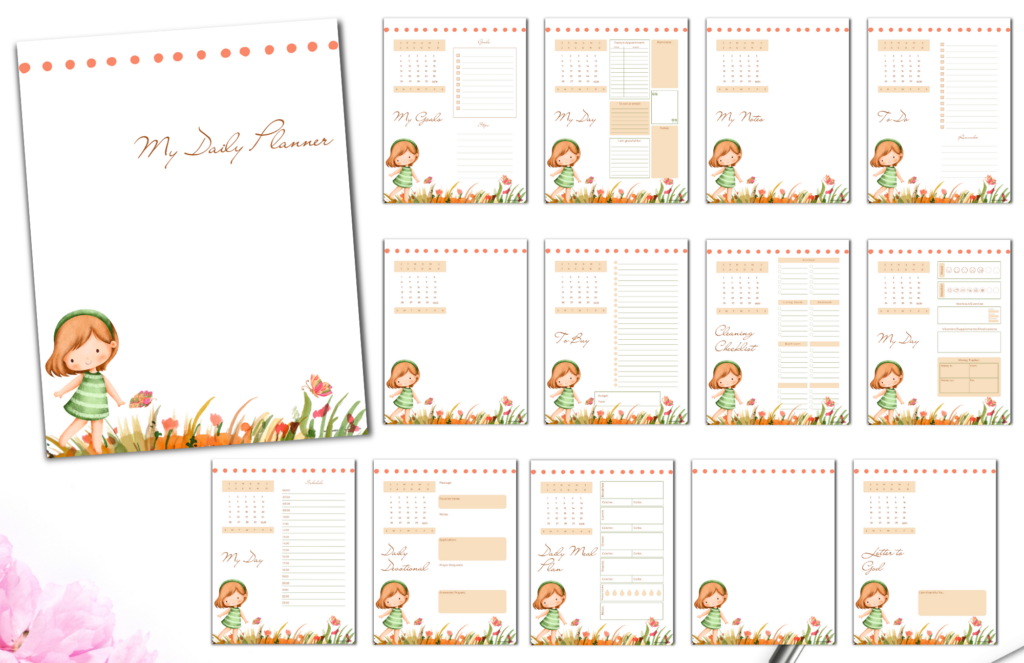 Free My Daily Planner printable that you can print on an 8.5 x 11 paper size. Simply click on the image to download the printable. Choose from these 10 cute designs. Each has 14 pages. You can also check out our How to Print.
I hope you find this daily planner printable works well for you and helps you stay organized and productive!
Happy Planning!
You might also want to check these out: