Just in case you haven't started planning for July 2022 yet, we wanted to let you know that we have a free planner available for download. This planner includes plenty of space for you to write in your own appointments and events.
We know that July can be a busy month for everyone, so we've included pages and trackers to make the most of your time.
What's in the July 2022 Planner?
Inside you will find:
Cover Page
July Calendar: You can choose between Monday starts and Sunday starts to keep track of important dates.
Daily, Weekly, and Monthly Schedule: Keep yourself organized by writing down all of your tasks, appointments, and reminders for each day of the week. This also includes Monday starts and Sunday starts.
More Trackers and Pages!

Goals/To Do/Notes
Travel Planner
Cleaning Checklist
Water Intake
Medication Tracker
Password Keeper
Sleep Tracker
Savings and Expense Trackers
Weight Tracker
Fitness Planner
Grocery List
Bible Study
Letter to God page
Art/Doodle page
2 coloring pages
You may choose from these 3 beautiful designs! Each has 29 pages.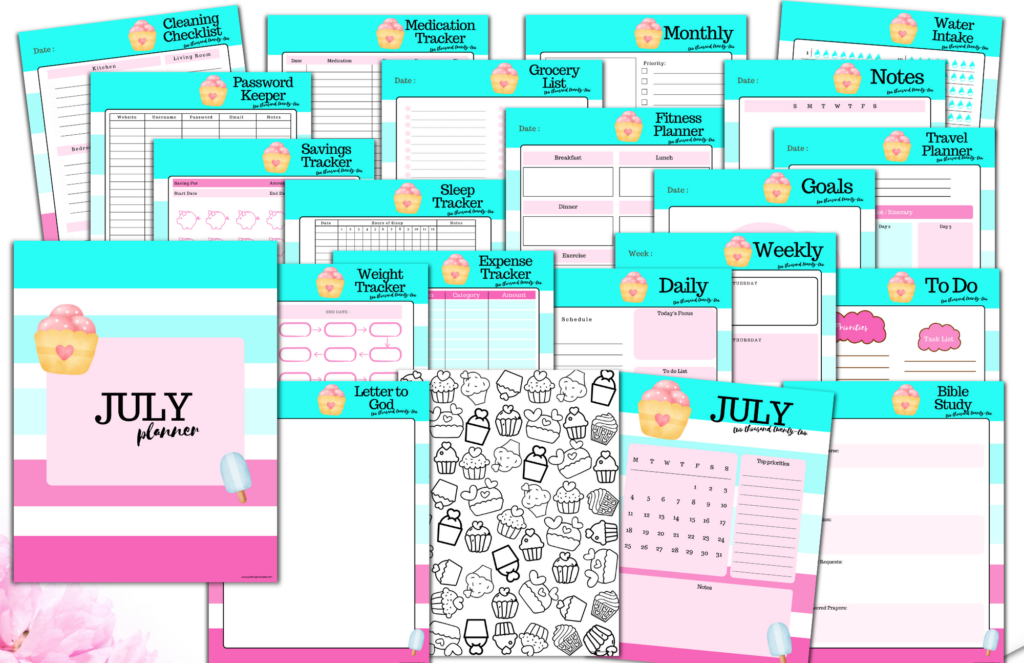 We hope that you find this planner helpful and helps you stay organized in the months ahead. Thanks for using our planner!
Ready to grab your July 2022 Planner?
Happy planning!
You may also want to check this out: